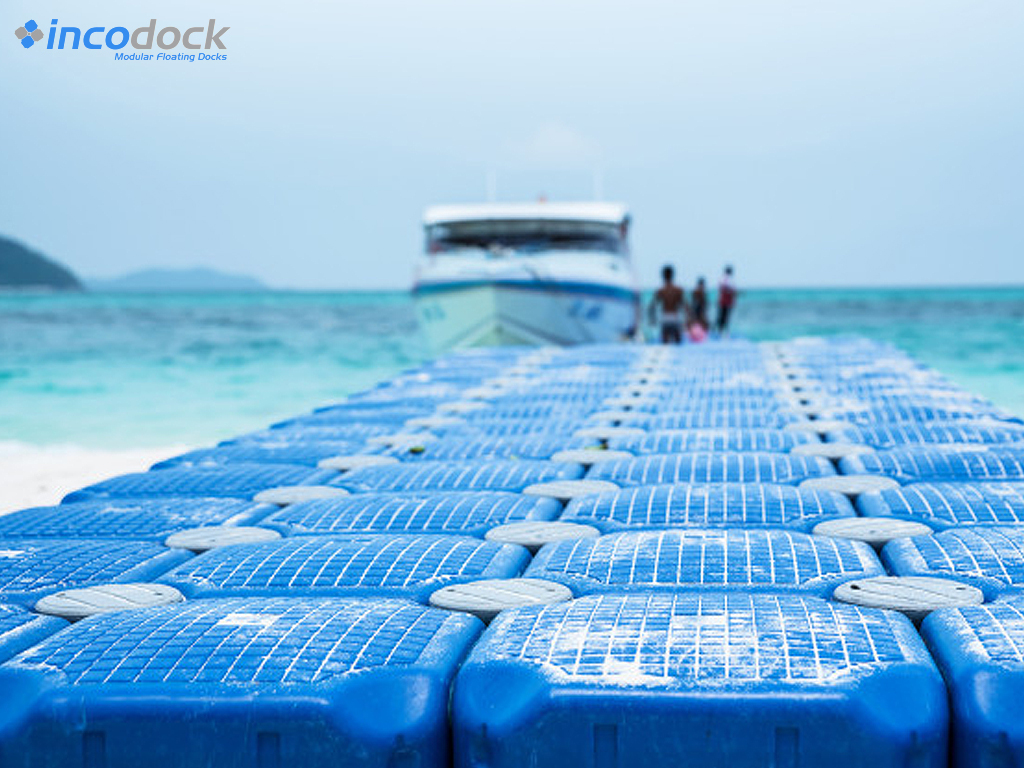 Anybody that's been on a clean, scenic waterfront will vouch for the experience. When you're on the edge of a dock or pier, legs dangling, wind flowing, sun setting, just water in front of you, you feel truly free. It's a great feeling, one of the most pristine forms of escape from daily routine.
In addition to aesthetics, docks have all sorts of purposes. While it has traditionally been customary to build stationary docks, we see floating docking systems becoming more and more popular due to their versatility – especially easy to move & reconfigure modular solutions like Incodock's systems comprising HDPE cubes.
Here, we compare stationary, elevated docks to modular, floating ones and their respective strengths and weaknesses
STATIONARY DOCKS:
These docks are built with a gap above the waterline to account for tides and fluctuations in water level. They are usually secured by steel pilings driven into the ground under the water body. Here are some of the aspects of stationary docks:
Since this type of dock is fixed to the bed of the waterbody, it is very stable.
Though boats are very secure at stationary docks, one has to be aware of the extra line needed to compensate for the fluctuating water level.
Typically tend to hive a hire load bearing capacity than floating docks.
Affords sturdy footing when getting into or out of moored boats or platforms due to lack of movement.
In cases where the water level has high variance, at times there can be a pretty large gap to overcome. They're better suited when water levels don't deviate too much.
There is a possibility of rodent or termite infestation in stationary docks due to the materials used.
Stationary docks can become a safety hazard in dire situations like storms when the water level surpasses the height of dock.
Over time, water deteriorates paint & - in case of wooden docks - rots the wood. Support poles of steel get corroded over time and since they are submerged, checking their condition and maintenance is difficult as well.
Frequent maintenance is required to prolong the utility of these docks. Repairing the pilings deep under water is very expensive, more so when ice also plays a role.
All things considered, stationary docks will eventually splinter and warp over time, usually unknown to the owner. Conditions of the area, characteristics of the waterbody and quality of material used in construction all have to be keenly analyzed to get an accurate estimate of how long the installation will last before degradation sets in.
FLOATING DOCKS:
First introduced in the 90s, floating docks gained popularity due to their durability and configurability. Over time, floating pontoon manufacturers have constantly striven to improve, and floating solutions have developed by leaps and bounds. Today, the fact that even coast guards and naval establishments the world over prefer floating docks in their installations and during drills stands testament to their efficacy.
Some features that have helped raise the stock of floating docking systems:
Ability to resize, realign & relocate. Modularity of cubes allows re-configuration of floating docks into different shapes and sizes as needs change. Assembly and disassembly doesn't take long, and you can quickly change the shape of the entire platform or pack-up and install it at some other site.
The buoyancy and ability to float on water surfaces – while being able to bear considerable weight – makes them usable on both stable as well as fluctuating water levels (owing to tides, seasonal variations or floods). This makes them highly reliable for a variety of sites.
Made of high-density & recyclable polyethylene, these docks are virtually maintenance free. Even if maintenance is needed on rare occassion, it is very easy to carry out owing to the modularity of the docks.
Adaptable – you can add and remove its sections irrespective of the season & change its shape to accommodate your need which makes it easy for you to hop on and off your watercrafts irrespective of water level.
These docks are resistant to UV rays, snow, rain and can be affixed to any existing structure. They have high tolerance against adverse weather & come with long guarantees.
The top surfaces of the floating jetty cubes contain special grooves to enhance grip. Dock cubes have highly reliable anti-skid design. You can safely park you jet skis on a floating pontoon dry-dock by attaching it to the dock cleats provided.
A very long lifespan (commonly over a decade) of these floating jetties without wear and tear, & their versatile usage make them worth investing in over a long term.
Floating jetty manufacturers also pay attention to aesthetics of the dock sections. It ensures that the platform you need for a party or docking your boats, looks appealing.
Diverse uses: floating pontoons/docks/marinas, floating cottages, floating bridges/walkways, view stands for hotels, floating cafes/restaurants etc.
Floating docks are the better option in many use cases as compared to stationary docks. When extremely heavy loads have to be carried to and fro, fixed docks are usually the clear winner. Stationary docks are good for consistent water level sites whereas floating docks are independent of variations in water levels.
Inco Mechel, a floating jetty manufacturer in India, specializes in setting up floating jetties and pontoons all over the country. Manufactured from the finest virgin HDPE granules, our floating jetties, known as 'Incodock', conform to stringent JAS-ANZ ISO 9001-2008 standards and have made the older concept of interlocking walled floats redundant.
Incodocks are modular in nature making them very customizable in terms of size and shape. They can be setup in little time and are easily transportable – a 100 square meter Incodock can be installed within 2 hours. Also, it can easily be dismantled and reassembled making them reusable in case modifications are required.
Some of the other features of Incodock are:
High impact resistance
High tensile strength
Chemical & corrosion resistant
Temperature tolerance up to 110oC
Moisture repelling
Non-toxic & eco-friendly
Very lightweight
Interested to set up your new floating boat dock or a floating pontoon?
We'll be glad to collaborate with you on new designs and help you develop your idea of a floating platform based on your requirement. Let's setup your waterfront with the right dock.
We are waiting to hear from you here.