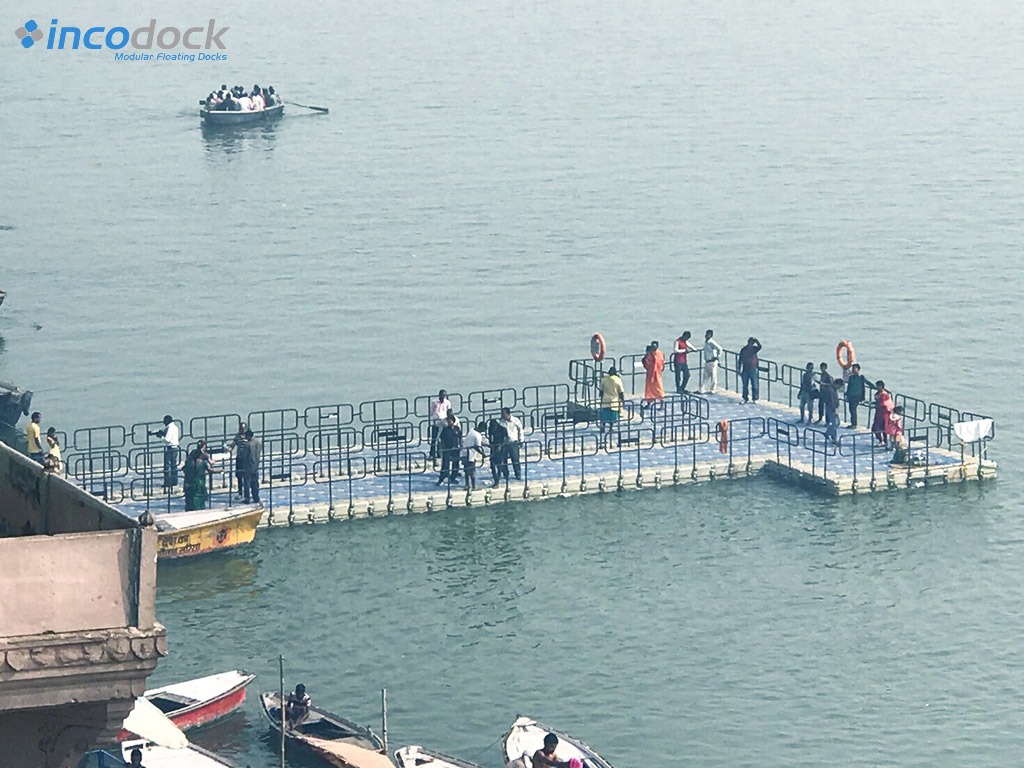 As the demand of floating docks in India is steadily growing among entities from diverse backgrounds, there are concerns about the safety aspects of floating dock systems. Also, in the eventuality of hazards like flash floods when the Monsoon is approaching the Indian subcontinent, cities prone to floods are worst hit.
During the floods, floating docks are at higher risk than fixed & recessed docks. Flash floods bring the destructive rage without warning and floating docks, if not properly secured, are sitting ducks in that catastrophic eventuality.
We at Inco believe that implementation of floating dock safety measures is of paramount importance. Our patron's safety on the floating docks is our topmost priority & we manufacture the floating docks keeping the same in mind. Extending that concern, Inco brings to you 10 ways to identify & patch-up the seen or unseen dangers lurking on and around your floating dock.
10 Ways to Make Floating Docks Safe For Use
If you are an entity engaged in activities pertaining to water bodies, you will be definitely owning a dock. You would want to secure the dock not only to protect users of the floating dock but also to protect the business from legal action (and damage to its reputation) at the occurrence of any unfortunate incident on the dock. This is all the more pertinent when it comes to floating docks.
Even if you are private floating dock owner, you still need to implement proper safety measures for your guests, and the investment. Some of the safety steps are enumerated ahead.
Remove potential hazards : A very basic but potentially life-saving step. Remove all things that can cause tripping over the dock in the water. Ropes, tools, equipment etc. must not be found lying idly anywhere on the dock.

No-slip shoes : Docks are places that get wet all the time. Emphasize on your staff (or family members) to wear safe, non-slip shoes & encourage the customers/guests to do the same. It is always good to stock some anti-slip footwear if you own a dock.

Address the risk of fire : Electrical components & fuel points are common around docks. You know how fuel & fire go together, not at all a good combo for anyone at the dock! Always keep an extinguisher at hand. Ensure that electrical wiring is well insulated & electrical systems are operating within safety standards on the dock.

Ban swimming near dock : Floating dock is not a beach. It can be very dangerous if a frayed electric wire without proper insulation is dangling in the water and someone unknowingly decides to take the plunge. Also, boats may come and go near the dock. These boats often have power sources releasing charges into the water. Install signboards that warn the customers not to swim, wade or dive.

Keep an eye on the weather : You can use weather apps to keep a tab on the imminent weather and its possibility to change in few hours. Plan any event on the dock always keeping in mind the weather condition & keeping aware of any weather forecasts.

Proper positioning of docks : Keep the dock close to the shore. Simple. Anchors should be fixed downstream so that when the flooded river comes raging, the dock will pivot close to the shore thereby avoiding the rapid waters.

Staying within the safe distance : There is a limit on maximum distance from the shore within which you can be considered safe. Depending on the depth of the water body, limit of safe maximum distance can be decided to install the floating dock in such a way that it doesn't pose obstruction in the way of water traffic.

Proper lighting : The dock should be well lit at night so that everyone is aware about the periphery of the dock and maintain safe distance. It will also serve as a marker to other boats and ships in water so as to maintain safe distance.

Rails : Safety rail all around the floating dock is a must and should be clearly visible (bright colors) to anyone on the dock.

Always keep few inflatable tubes & a first-aid kit on the dock : You never know what, & when, an emergency will suddenly manifest. You can't be left searching for that stuff in a crisis.
As a floating pontoon manufacturer in India, Inco specializes in setting up floating jetties – known as Incodock – all over the country. An Incodock is manufactured from the finest Virgin HDPE granules that conform to stringent JAS-ANZ ISO 9001-2008 standards.
As mentioned at the start, Inco holds the safety of its patrons at the highest level of concern. We keep the modular design of the docks to enable not only their easy setup but also for fast dismantling in case a natural calamity is imminent or any other accident has occurred.
Incodock is highly customizable & has high tensile strength. Its resistant to chemicals & adverse effects of sea water ensures that your guests can enjoy on the dock without worrying about any rot in foundations of dock or any slippery algae. We have implemented slip-proof design on the surface of Incodock & smoothed the edges so that you are safe from any inadvertent mishap.
We ensure implementation of proper safety measures around the floating dock & also apprise the owners about same.
If you are interested to install a floating dock for your guests/ customers in a water body you own, we await you at Inco.