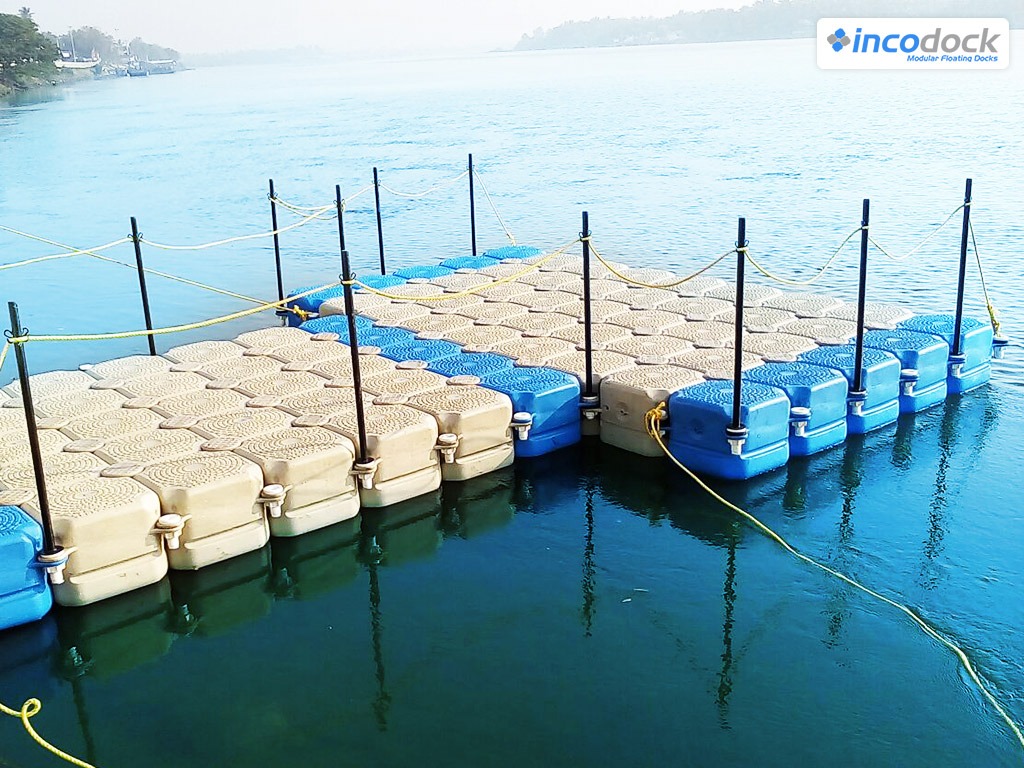 Well designed, well built & pragmatically installed floating dock systems, if properly maintained, render great service for years together. Frequently removing grime, dirt and other unwanted outdoor elements accumulated on the dock surface arrests its fading & helps to preserve the dock system's beauty.
Mussels, barnacles, lichens & other types of marine growth mar the appearance of the docks and the associated structures securing it in the water.
Incodock, a floating pontoon manufacturer in India, has some tips on how to keep your floating dock system look great irrespective of any condition all around the year.
7 Tips For Floating Dock System's Effective Cleaning
Before venturing for cleaning the floating dock, identify any damaged dock units that need to be repaired or replaced since not doing so might result in further damage to them while cleaning.
After you have thoroughly inspected the dock system from all sides & ascertained the extent of any marine growth or debris, bear in mind these tips while you clean the dock.
Restrict the garbage:

Simplest & most preliminary step don't allow dumping of any kind of garbage in the water body surrounding the dock system.

Make sure there is no debris floating around the dock. It will only hamper the cleaning process, if you conduct it on some day.

Ensuring this will greatly save you a lot of time in the cleanings to be done in future.
Soap against paint:

Don't use an antifouling paint on the dock surface to keep organisms from growing on it. The paint chemical may harm the surface and may cause it to fade.

Instead, treat the surface with soap & water periodically.
Removal of hard growth:

White worms, oysters, barnacles & mussels are the common hard growths found on the docks if the docks are not maintained periodically. Barnacles & oysters grow fast on the docks (within few months) creating large communities.

Extra weight of hundreds of pounds on the docks due to these growths is not unheard of. It can make the dock sink over time. These growths have to be scraped off from each side and the bottoms of the floating dock system.
Removal of soft growth:

Soft growth can be marine algae, which can be cleaned easily off the dock by scrubbing with cleaning pads.

Do note that different dock surfaces require different kind of cleaning pads.
Pressure Washing:

It is the most efficient way of cleaning and a great time saver. But, seek professional help if you have never used pressure washing.

Unregulated water pressure can damage your floating dock system. Though a composite floating dock requires cleaning only around once a year, you can employ pressure washing to remove grime, dirt and algae.

This takes care of even those gaps and crevices on the dock where you can't reach easily.
Stain Removal:

Use environment friendly cleaning agents to remove stains from the dock surface if the cleaning is happening in the water surrounding it.

You don't want the water body to get polluted with harmful reagents.

Cleaning products having ammonia and phosphorus as ingredients can endanger both human and marine life if those get into the water body.

So be considerate and buy a cleaning product that is devoid of these two chemicals.
Tread with the weather of your locality:

If you live in an area that witnesses drastic variation in climate (e.g. extreme cold of the winter), you may want to consider storing the floating dock system out of the weather.

After all, nobody is going to use the dock on the frozen water body around it, so avail the advantage of portability & modularity of the floating dock and store it away during those months of drastic weather changes.

It will not only prolong your floating dock's life but also save you lot of bucks of cleaning & maintenance after the weather gets normal.
Incodock is a floating jetty manufacturer in India which makes JAS-ANZ ISO 9001-2008 Standards compliant floating pontoons (known as Incodocks) made of finest Virgin HDPE granules.
Incodocks' modularity makes them highly customizable in terms of size and shape. They can be setup in little time and are easily transportable. Also, they can be easily & quickly dismantled and reassembled to suit a variety of purposes.
Our Incodocks are resilient to high impacts, chemical & corrosion resistant, moisture repelling, very light weight, non-toxic and eco-friendly.
If you own a water body in your backyard, your docks are waiting here.