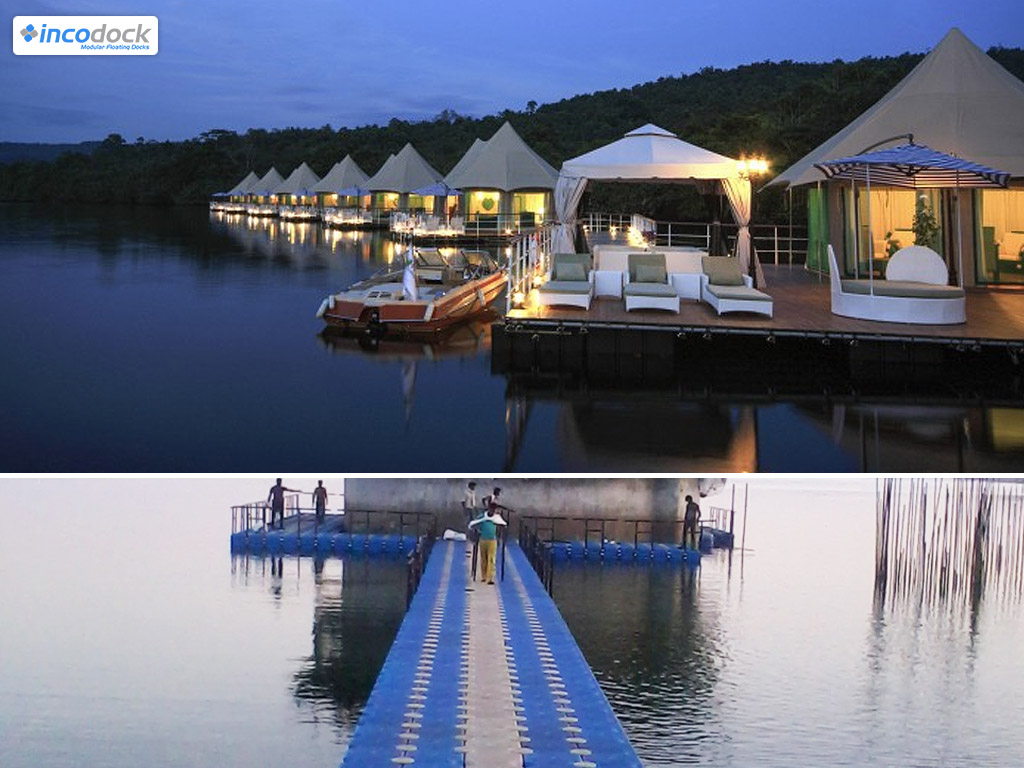 Inhabitants around water bodies and coasts are used not only to the gorgeous scenery & an abundance of natural attractions but they also have to weather natural disasters like storms & hurricanes.
With more storms making landfall every year, knowing how to secure your floating dock system against them is essential & floating dock manufacturers in India provide necessary guidelines in light of the same.
In this guide, we'll take you through the risks posed by such extreme weather phenomena to your floating dock systems & how you can ensure their safety.
Risks Posed by Natural Disasters To Floating Docks
Natural disasters like storms cause huge damage to both property & environment and for floating dock owners, lack of proper preparation for dock protection can mean all the difference between safeguarding their dock and having to reconcile potentially irreparable damages not only to the dock but also to the structures like pilings, walkway, bridges etc. associated with it.
Here are some of the risks such natural disasters pose to your dock system.
If not secured properly, the storms can loosen floating dock units, change their orientation entirely rendering the dock useless, or even blow them away.
Strong winds can rock the vessels anchored at the floating dock back & forth, causing potential damage to both the vessels as well as the dock surface.
A storm/tornado can not only gather harmful debris around the dock, but the flying debris in it can badly damage the dock surface as well.
The severity of the disaster is directly proportional to the extent of damage one can expect in the worst-case scenario. By preparing for the worst, you can protect your floating dock, walkway, bridge, boats, kayaks or personal watercraft from imminent damage as much as possible.
Protecting Your Floating Dock System
Before the season of extreme weather arrives, you must take steps to ensure the safety of your floating dock.
Follow these 8 tips to secure your dock:
Make proper installation of the floating dock a priority. Otherwise, you run the risk of the dock coming loose in strong winds. When selecting your docks, you can go for an organization like Incodock that gives recommendations for installation & also professional assistance.
It is advisable to hire professionals for a thorough inspection of the dock, including the gangway, railings, couplers, bridges, walkways, & other fixtures. Patch up all vulnerabilities as per their recommendations & you can take pictures of the dock to compare its condition after the storm has passed.
Consider adding dock bumpers to your floating dock in case there are others' docks around yours. It will give you double benefit as it will protect your dock if something crashes into it and in case your own dock comes loose, the bumpers will protect others' docks/properties as well.
Pair your floating dock with an anchoring system (which can comprise stiff-arm brackets, adjustable piling brackets, deadweight brackets & winch inserts, mainframe piling hoops etc.) to enforce an extra level of security during violent winds & rains. Give some slack to the lines to account for high waves and increased surge. If possible, switch to spring lines as they afford superior shock absorption and maximum strength.
Remove all unattached debris (paddles, storage containers, removable railings & lightings, signs etc.) & furniture from the dock so that they don't become flying projectiles when the natural disaster strikes.
Make sure the posttension or whaler cable system which tether the floating dock in place are in good shape. The cables are attached to the pilings below & allow the dock and bridge/walkway connected to it to ride the water surge.
Always stay up-to-date on dock maintenance & dock preparation methods. Stay vigilant about changing weather conditions. If you are leaving town, make sure there is someone who can be relied upon to implement your emergency dock preparation.
Inspect your dock system thoroughly after the disaster has passed. You can create a floating platform with Incodock cubes for surveying & inspecting any damage after the storm. Take stock of the damage and new vulnerabilities. If you own an Incodock, it is super easy to clean & repair it in very short time. Check for debris, snakes etc. that could have washed around your dock.
Incodock is an installer of modular floating docks, jetties and pontoons. We manage turnkey floating construction projects by providing consultation & expert advice along with installation & maintenance of floating jetties, docks, etc.
The Incodock floating cubes are made up of the finest Virgin HDPE granules that strictly meet JAS-ANZ ISO 9001-2008 standards. They have considerable resistances to natural calamities, can withstand temperatures up to 110°C and are recyclable, offering residual value even after their purpose is served.
Thinking about installing your floating dock? Feel free to contact us.