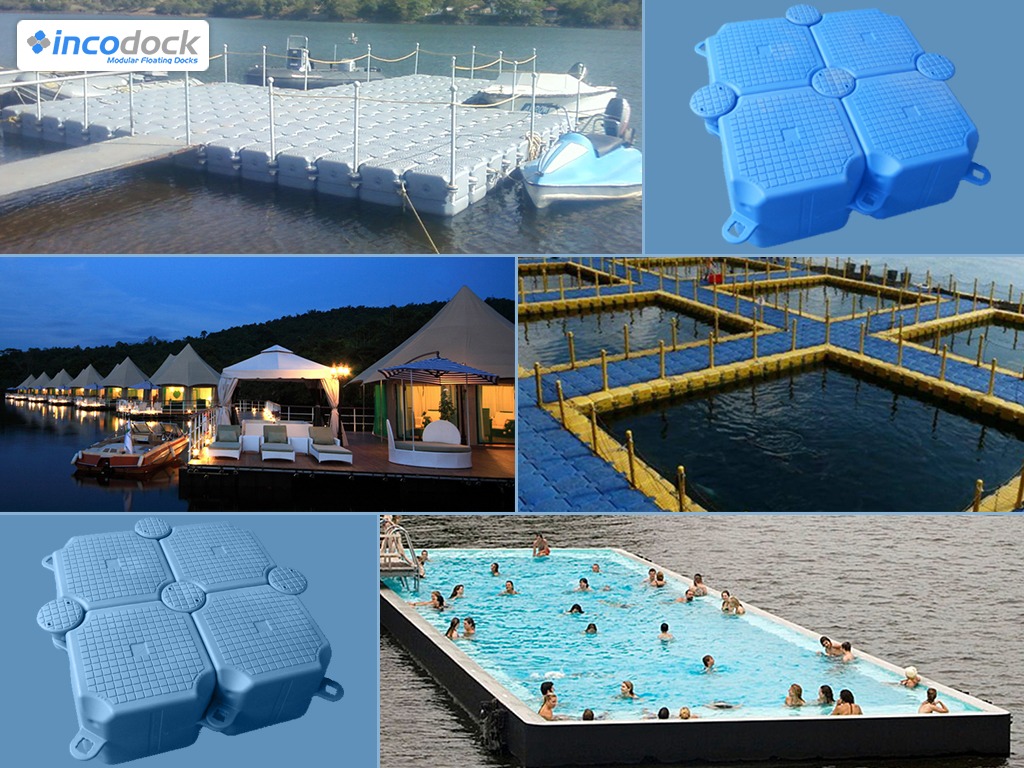 Owning a waterfront opens up a wide range of business opportunities. Floating docks can be installed in the water body you own for a variety of lucrative purposes, while also adding to the ambiance.
Incodock, one of the renowned floating jetty manufacturers in India, can help you reap the most out of a waterfront business property by installing floating jetty and floating pontoons. This equips you with an outdoor extension in the water for realizing your latest business ideas like a floating dock restaurant or a fishing dock.
Here, we provide you with some of the best new business ideas you must definitely think about for monetizing your waterfront.
Floating cafes & restaurants

Of the numerous business ideas on the water, a floating dock restaurant intrigues everyone. With our lightweight floating cubes, you can set up a floating restaurant or café which will draw people to enjoy their meals on the water and experience the feeling of boating, simultaneously.
The modular Incodocks provide great flexibility with respect to the size & shape of the café you wish to set up. Incodock floating systems can rise or sink with the water level, resist moisture and are highly stable. Think of a floating dock restaurant churning out revenue in your water body!
Rental docking hub

Another one of the latest business ideas for water body owners is setting up a rental docking hub in the water body for canoes, kayaks and other smaller watercraft.
The demand for the fun leisure water-activities will only rise in the coming weeks as summer approaches, prompting people to flock the water bodies around them.
Entertainment stages

If a community is living nearby your water body then you should definitely think about setting up a floating entertainment stage to encourage them for hosting events like social gatherings, weddings, birthdays, surprise bashes or band performances.
Incodock floating stages can be rapidly setup (a 100 square meter floating stage can be installed within 2 hours) in any configuration as per need and can be easily decorated to suit the event's theme. If needed, tents, canopies and marquees can also be erected on the floating stage. Perhaps the best business idea!
Terrace extension

Floating pontoons enable waterside cafes and restaurants to extend surface area of their terrace to increase the turnover during the high season. The benefits increase manifold for a place which has a great view like overlooking a river or a lake.
If you own a café or restaurant at such a location, the terrace extension into the nearby water body can help your multiply the benefits for your business. Also, event organizers are on the prowl for such places with unique features and your café, with an extended terrace into the water, will draw them to you for new business opportunities.
Water picnic area

This is a lucrative opportunity to make extra income. Using the Incodocks, you can set up a nice water picnic spot in the waterfront you own. The floating docks are sturdy enough to bear the load of a family picnic. You can also use the floating docks to set up water basketball (or other water games) nearby the picnic area. Kids can enjoy swimming or diving into the water from the docks. Water picnic is a nice getaway on a hot day.
Floating platform for film studios

If you own a pond in a picturesque location where film studios buzz frequently, you would like to set up a floating platform in your water body giving the technical film crew an option for filming shots on the water. Our HDPE floating pontoons can sustain the weight of their technicians as well as the filming equipment. Just like the water pools owned by the film studios, floating pontoons are also suited for use in a natural environment and can be easily shifted for different perspectives during a shoot.
Swimming area

Transform your water body into a swimming area with Incodocks. No fretting about skimmers, main drains, suction lines, pumps or filtration system. Set few deck chairs on the floating swimming platform under the umbrellas and enjoy sunbathing. Also, with the floating swimming platform, you may begin giving swimming classes in your water body if you are qualified for it.
Fishing dock

You can set up a fishing dock of any dimension in your water body for public or private use with the Incodock cubes. The Incodock cubes are easy to set up and dismantle which makes them suitable for fish farms also to farm their fish in a defined area.
Incodock is one of the pioneer floating pontoon manufacturers in India and also an installer of modular floating dock, floating jetty and pontoon. We manage turnkey floating construction projects by providing consultation & expert advice along with installation & maintenance of floating jetties, floating dock systems etc. The Incodock floating cubes are made up of the finest Virgin HDPE granules that strictly meet JAS-ANZ ISO 9001-2008 standards. They have considerable resistances to natural calamities, can withstand temperatures up to 110°C and are recyclable, offering residual value even after their purpose is served. If you have new floating dock ideas of business value with which we can assist you, feel free to contact us.